Employees working in industries like oil and gas exploration, manufacturing facilities, or petrochemical plants for example, can sometimes be exposed to perilous conditions.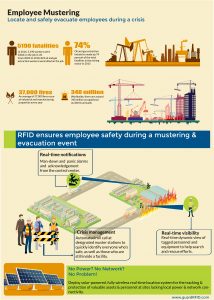 It is a well known and documented fact that the oil & gas industry is one of  the most dangerous industries when it comes to worker safety. From 2003 to 2010, 823 oil & gas extraction workers were killed on the job, a fatality rate that was seven times greater than all U.S. industries  combined (Census of Fatal Occupational Injuries).
In July 2017, a Bureau of Labor Statistics report confirmed that the number of fatal work injury cases in oil and gas extraction industries was 38 percent lower in 2015 than in 2014, falling from 144 to 89.  In 2015, fatalities in the oil & gas and mining sector were comprised of 74 percent from oil and gas. Most of the fatalities in oil & gas industry occurred due to falls, slips, trips, exposure to harmful substances, and fire & explosions.
GuardRFID's Employee Mustering solution delivers automated accounting of personnel, whether they are within a building, in outdoor areas, or at muster stations, providing critical real-time demographic data when you need it most – when your employees could be at risk. The solution works in conjunction with an organization's employee evacuation plan to ensure workers are evacuated safely during fire and explosions, or leak of harmful substances.
[lightbox selector=".mylightbox" deeplink="true" opacity="0.4475″ prev_scale="0.35″ prev_opacity="0.35″ next_scale="0.35″ next_opacity="0.35″ orientation="horizontal" thumbnails="true"]
GuardRFID's Employee Mustering centralizes the management of worker safety and personnel accountability during an evacuation.
AllGuard Real Time Location Services (RTLS) app
As a proven expert in real-time location systems, GuardRFID has added emergency personnel mustering to its powerful AllGuard Real Time Location Services (RTLS) app, now available in the Google Play Store. Crisis management is one of the core features of the employee mustering solution and the Android app gives real-time visibility of personnel in the facility. Activities like automated roll-call at designated muster stations and duress notification acknowledgement for re-assurance can be performed using the mobile app.
In addition to providing real-time, accurate detection of personnel – including entry and exit – the app supports the creation of mustering events for multiple mustering stations (selectable), real time updates of mustered count by station and quick reporting of last in/last out by station. Manual mustering is supported by selecting personnel from the "Not Mustered" list and can be attributed to any station. If a worker does not report to their designated mustering station, the system can be used to instantly locate any workers within the evacuation area[1]. Personnel who are not on site during a mustering event can be eliminated from the muster group, saving time in determining who is and who is not onsite[2]. 
The app compliments the self-powered lightweight, wearable, bi-directional Active RFID Staff Tag, the AT4 Asset Tag (which can be conveniently attached to a worker's hard hat) and GuardRFID's world-class location detection infrastructure to quickly locate and/or muster personnel. The app works on Android tablets and smart phones and communicates with GuardRFID's back end services over Wi-fi or cellular networks. GuardRFID's new Android app with mustering provides an additional level of security and comfort for people working in high-risk environments by confirming evacuees in real time. Designed specifically for Android mobile devices, it puts mustering functionality in the hands of users wherever they need it.
About the GuardRFID Employee Mustering Solution
The Employee Mustering Solution developed by GuardRFID eliminates the need for pencils, clipboards and lists, and automates the entire mustering process – whether in buildings, outdoor areas, or at designated muster stations. The Solution uses RFID to provide critical real-time site data during a mustering and or evacuation event. With its enterprise-wide visibility from anywhere, and using customizable, two-way Active RFID badge-style tags, personnel can be pinpointed instantly to within feet, even in the most hazardous environments and conditions.
[1] Requires additional infrastructure to cover the search area.
[2] Requires additional infrastructure to cover entry/exit points