Is Morgue Security Right for You?
Identify:
Improved efficiency and workflow within the morgue facility with decedents tagged and logged in the AllGuard® system immediately upon arrival

Improved communication with internal stakeholders and outside partners for end to end management of the decedent
Locate:
Real-time tracking with simple location monitoring tags

Prompt alerts if decedent patients are moved unexpectedly
Protect:
Tamper detecting tags and automated door control may be used to prevent unauthorized removal of decedents

Help ensure compliance with all local and federal laws and requirements
Why GuardRFID® for Morgue Security?
A hospital or government morgue is typically a busy environment with deceased arriving at all times of day and night to await identification, removal for autopsy or burial. Using active RFID tags, arriving decedent patients are tagged and logged in our AllGuard system to ensure proper identification
Improved Workflows

Automated tracking of decedent patients.

Track bodies through the mortuary, ensuring a complete chain-of-custody from arrival to final disposal

Improve accuracy and handling with reliable identification of each decedent patient

Improve and enhance overall operational quality of service

Security

Know where each decedent body is located and the next steps in the process in real-time.

Minimize human error

Reduce incidents of missing or mishandled decedent patients

Reduce the risk of expensive & damaging lawsuits
How RTLS for Morgue Security Works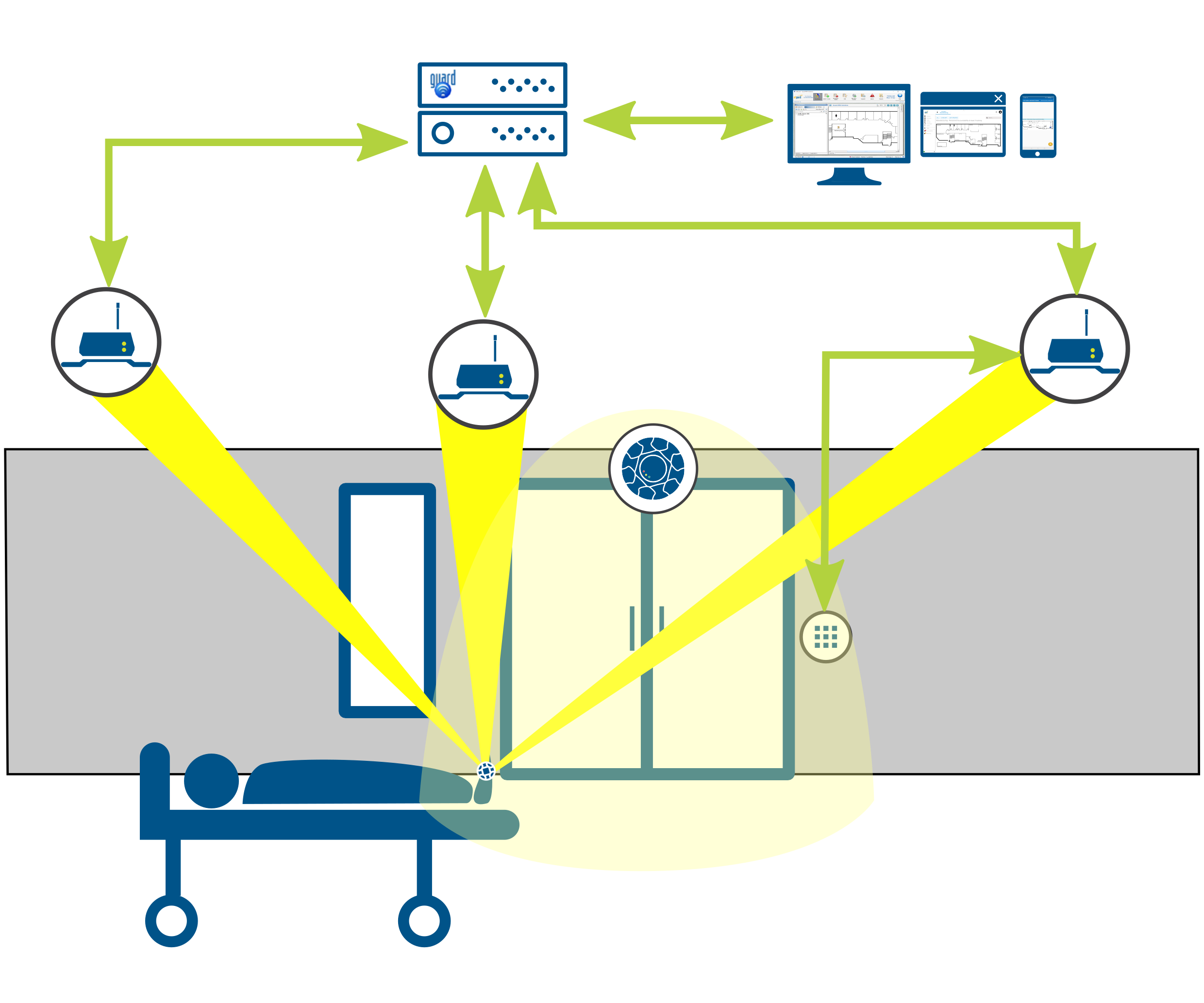 Locate, track, and secure decedent patients in real-time
The solution uses the GuardRFID suite of infrastructure hardware and AllGuard® enterprise software to identify tags, manage tag rules, activate alarms and control doors. Each decedent is assigned a tag – location is seen in real-time, while the software activates alarms when tagged items move from secured areas. By integrating long-range RTLS and close-range portal detection in a single system, the solution provides a unique element of floor discrimination.
Is Morgue Security Right for You?
Reliable Security Protection
"My search for the least invasive but most effective security system led to GuardRFID. We are happy to employ AllGuard® to protect our art displays."
Chris Keatley
Curator, Pendulum Gallery
Endless Potential
"The knowledge we have now because of this technology gives us a lot of potential."
Alexis Jalbert
4.0 Engineering Project Manager, Nutriart
Spectacular Customer Service
"I would absolutely recommend TotGuard. First, the product is very good. When you look at what it is that clinicians need to do and how they need to keep their patients safe, you need a product that is highly versatile, that doesn't cause additional alarms, and is user friendly. And TotGuard is all those things. But secondly, I think GuardRFID's customer service has been spectacular! "
Dixie Weber
Administrator of Women's and Urological Services St. Luke's Health System, Boise, Idaho
Return on Investment
"A strong infant security system is vital to the functioning and continued operation of any unit caring for infant and pediatric patients. I see TotGuard as having an immediate return on investment to our organization and to the safety and security of our patients and families."
Mary Salazar
Regional Director of Women & Infant Services, Conway Regional Health System