Is Temperature Monitoring needed in your facility?
Identify:
Continuous temperature monitoring of environmentally sensitive assets

Use AllGuard software to see live temperature information and generate reports
Locate:
Works in parallel with GuardRFID Asset Tracking solution to monitor location of assets

Use the AllGuard software to view location of temperature sensors
Protect:
Alarms can be triggered if temperatures deviate beyond allowable thresholds

Configurable sensors to independently monitor temperatures in different units

Configure calibration notifications to ensure your facility meets regulatory requirements
Why GuardRFID for Temperature Monitoring?
From vaccines and other medicines to blood and tissue samples, these all need careful temperature control, or the resulting spoilage would deny patients the care they need. The GuardRFID Temperature Monitoring solution provides real-time readings on the storage of temperature sensitive assets. The AllGuard Server software logs these readings and provides reports on the mean kinetic temperature and any variances over time.
IMPROVED WORKFLOWS

Automated monitoring of temperature sensitive materials

Continuous temperature monitoring without the need for manual checks that are prone to human errors

Each temperature sensor can be configured independently to monitor for temperature variances in different refrigerators or climate-controlled storage units

Easily meet compliance requirements with continuous temperature logs and system reports

Configurable reminders to recalibrate temperature probes to meet NIST or other compliance requirements

SECURITY

Continuous visibility on your environmentally sensitive assets

System can raise alarms if temperatures deviate beyond the allowable threshold so that can investigate and prevent spoilage

System logs the temperature of each sensor over time so you can generate a report on the mean kinetic temperature and other trends that may be appearing in your equipment

Works in parallel with GuardRFID RTLS Asset Tracking solution that can be used to monitor the location of specific assets in your system
How Temperature Monitoring Works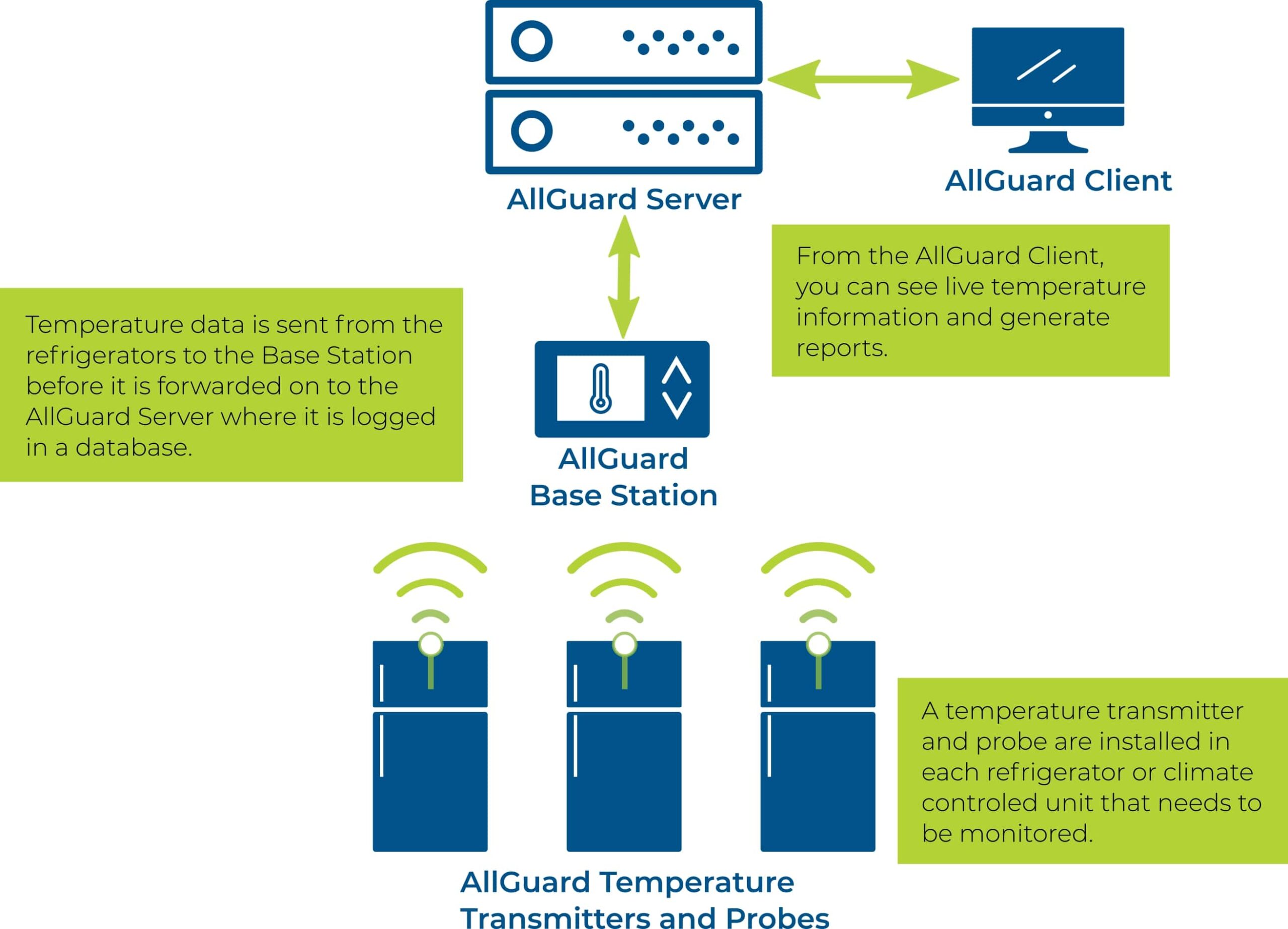 Achieve maximum utilization and prevent loss with real-time temperature monitoring
GuardRFID temperature probes are installed inside refrigerators and are connected to wireless transmitters that send this information to the AllGuard Server through the AllGuard Base Station. You can review temperature information from all temperature probes through the Base Station or the AllGuard desktop client software. The AllGuard desktop client also allows you to generate reports to meet compliance requirements
Is Temperature Monitoring needed in your facility?
Reliable Security Protection
"My search for the least invasive but most effective security system led to GuardRFID. We are happy to employ AllGuard® to protect our art displays."
Chris Keatley
Curator, Pendulum Gallery
Endless Potential
"The knowledge we have now because of this technology gives us a lot of potential."
Alexis Jalbert
4.0 Engineering Project Manager, Nutriart
Spectacular Customer Service
"I would absolutely recommend TotGuard. First, the product is very good. When you look at what it is that clinicians need to do and how they need to keep their patients safe, you need a product that is highly versatile, that doesn't cause additional alarms, and is user friendly. And TotGuard is all those things. But secondly, I think GuardRFID's customer service has been spectacular! "
Dixie Weber
Administrator of Women's and Urological Services St. Luke's Health System, Boise, Idaho
Return on Investment
"A strong infant security system is vital to the functioning and continued operation of any unit caring for infant and pediatric patients. I see TotGuard as having an immediate return on investment to our organization and to the safety and security of our patients and families."
Mary Salazar
Regional Director of Women & Infant Services, Conway Regional Health System