Remote workers operating in hazardous environments such as oil and gas exploration or construction industries can be exposed to perilous conditions. Over a seven-year period, 823 oil and gas extraction workers were killed on the job – a fatality rate seven times greater than for all U.S. industries, with many fatalities due to falls, slips, trips and exposure to harmful substances.[1]
The constantly challenging conditions for lone workers mean that organizations must work hard to find new ways of ensuring a safe work environment that doesn't put their people in harm's way. Aside from the regular safety hazards that a worker might encounter on a job site, people who work in isolation cannot call out for help from a fellow worker when an emergency strikes. Accounting for where your employees are at all times is therefore vital, and it becomes more complicated when cellphone coverage is poor.
Applying new technology
Organizations with lone workers should always ensure that guidelines for their safety are in place – from understanding where hazards exist to providing instructions for contacting supervisors when in need of assistance.
Technology can play a vital part in promoting lone worker protection. Guidelines can only go so far and technology can bridge the gap between having a plan in place and actually knowing that your workers are safe. Technology solutions, such as Active RFID systems, are designed specifically for keeping employees out of harm's way and for monitoring lone workers in real-time. They also enable people to call for help in an emergency.
Here's how an Active RFID system can help improve lone worker safety:
Know where your people are at all times
On remote and dangerous work sites, it's important that you know exactly where your employees are at any time and that you have critical real-time site demographic data when you need it most. With an Active RFID system, you can accurately monitor the movement of your people. The latest data can be used to determine where a worker is, meaning real-time visibility of your tagged personnel throughout your site – even between locations – pinpointed to within feet.
Call for urgent help in a crisis
An Active RFID solution can give you and your employees assurance that they can communicate and call for help at a time of crisis, and eliminate critical delays when that help is needed. Wearable Active RFID tags have customizable buttons, programmable Man Down and panic alarm capabilities, and two-way communications to enable individuals to instantly summon help, be quickly located on a monitoring station floorplan and then receive acknowledgement that help is on the way.
Account for all personnel during a crisis
An Active RFID system delivers automated accounting of personnel, whether they are within a building, in outdoor areas, or at muster stations. This provides critical real-time demographic data when you need it most — when your employees could be at risk.
Following are a couple things to consider when shopping for an Active RFID system:
Integrates with existing systems
An Active RFID system should be able to seamlessly integrate with existing IT policies, standards and worker safety systems to ensure minimum complexity and maximum ease of deployment. It should work in conjunction with an organization's employee evacuation plan to ensure workers are evacuated safely during fire and explorsion, or leak of harmful substances. The safety system should also be able to integrate with complementary systems, such as CCTV or Access Control, to ensure that your workers are accounted for in the case of an emergency or when trouble strikes.
Designed for hazardous environments
In dangerous industries such as oil and gas, or even construction, lone workers need to know that the equipment they carry will work in the most testing of situations. An effective RFID solution will have ruggedized IECEx/ATEX-certified equipment and tags that can stand up to any environment. What's more, the tags need to be comfortable and slimline so that they don't get in the way of 'business as usual'.
Peace of mind from afar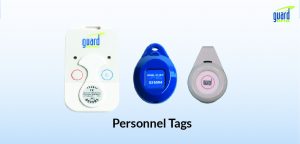 Accidents will still happen, and often do. According to the ILO, a worker dies every 15 seconds from a work-related accident, and 153 more are hurt. That's 317 million accidents on the job annually, with many resulting in extended absences from work.
Active RFID gives you a reliable and instant real-time view of your tagged personnel and helps you ensure the safety of these people, wherever they may be.
GuardRFID's Lone Worker safety solution is used in industrial organizations across North America and provides enterprise-wide visibility of workers from any single monitoring point. To learn more about the solution, visit https://www.guardrfid.com/lone-worker-safety/.
The Employee Mustering Solution developed by GuardRFID eliminates the need for pencils, clipboards and lists, and automates the entire mustering process – whether in buildings, outdoor areas, or at designated muster stations. The Solution uses RFID to provide critical real-time site data during a mustering and or evacuation event. With its enterprise-wide visibility from anywhere, and using customizable, two-way Active RFID badge-style tags, personnel can be pinpointed instantly to within feet, even in the most hazardous environments and conditions. To learn more about the solution, visit https://www.guardrfid.com/employee-mustering/.
To book a demo, click here: https://www.guardrfid.com/book-a-demo/
[1] Source: Census of Fatal Occupational Injuries