Providing a safe and secure environment to newborn babies and mothers is a crucial function at any hospital. The dominant non-medical threats to a new born baby are abduction and mismatch. Both these reasons cause emotional pain and anguish to affected families. In many cases, it can have life changing impacts.
Baby abduction attempts are rare, but they do happen:
A study by Inter/Action Associates, a Las Vegas, Nevada based security consulting firm found that out of four million births annually, on average 28,000 babies were switched in hospitals, temporarily or permanently. (Source: https://www.baltimoresun.com/news/bs-xpm-1998-08-16-1998228086-story.html )
In a study titled, Patient Misidentification in the Neonatal Intensive Care Unit: Quantification of Risk, it was concluded that NICU patients are frequently at risk for misidentification errors as a result of similarities in standard identifiers. This risk persists even after exclusion of multiple births and is substantially higher than has been reported in other hospitalized populations. A listing of all patients who received care in one NICU during a calendar year was obtained from the unit's electronic medical record system. The mean number of patients who were at risk on any given day was 17 (range: 5-35), representing just over 50% of the average daily census.
Nowadays most hospitals have a baby and mother identification process, but no method is foolproof and there is a room for human error. The usual face, voice, fingerprint, or even retina identification methods do not work for new born babies.  Out of the new age technology, the one technology that seems to be accurate and consistent in identifying babies and matching them to correct mothers is radio frequency identification (RFID). An RFID system can accurately identify infants without direct line of sight. Therefore, it is well suited for birthing hospitals with multiple births taking place every hour.
GuardRFID's Infant Security solution, TotGuard is based on active RFID technology. It offers the highest security with a simple-to-use, yet powerful user interface. Keeping end-users in mind, the tags are ergonomically designed to ensure the highest level of comfort for your smallest of patients. The system provides greater flexibility to match your workflow than any other system available today. In addition, TotGuard has been designed to minimize nuisance alarms contributing to a quieter, more comfortable patient environment.
GuardRFID offers the broadest range of lightweight tags in the industry: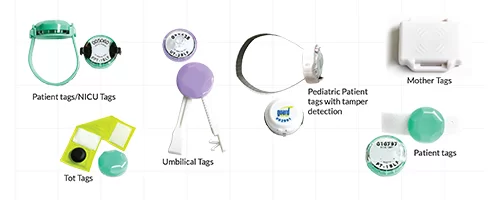 Dual Sensor Tamper Detecting Tags for the highest security
Umbilical Tags to eliminate false alarms
NICU Tags for the smaller babies
Pediatric Patient Tags for older children
Mother Tags for mother baby matching
Patient Tags for difficult to tag babies
TotGuard can be implemented across multiple facilities using a single server. The TotGuard solution can be interfaced to common access control and patient records systems utilized by hospitals to simplify the workflow of ensuring the safety and security of new born babies.