GuardRFID modernizes user interface and debuts new features in popular real-time location system (RTLS)
When a company is as customer-centric as GuardRFID, it should come as no surprise that customer requests fueled many of the new features and enhancements in its latest product release.
"GuardRFID understands there is no one-size-fits-all solution to deploying real-time location systems," said CTO & Vice President of Engineering, Dalibor Pokrajac. "We work shoulder-to-shoulder with our customers and this often leads to product improvements that can benefit all users."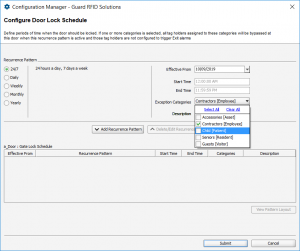 The AllGuard 6.3 release adds a rich 'hands-free access control' capability to the platform. This solution allows administrators to define time-of-day-based access control rules, customized for different groups of employees or visitors. Company employees carry a Guard RFID tag which is used to automatically unlock doors to provide access to authorized personnel. This removes the need to carry an employee ID card and swipe it at access points.
Infant Security features have been added to the Web Client and iOS mobile client. These features are in the 'field trial' stage and we invite customers and partners to join the field trial. To do so, contact your account manager or Guard RFID support.
Discussing the new update, Guard RFID Vice President, Technology and Product Strategy Marek Dutkiewicz explained, "GuardRFID systems uniquely provide and restrict access to defined areas without the need for tag swiping. This newest feature provides users the ability to better tailor and define access protocols."
The User Experience remains a key focus for the development team. The first thing desktop client users will notice is a modernized user interface (UI). Customers that are concerned with change need not worry as the changes are restricted to new icons and colours — icon functionality and location remain untouched.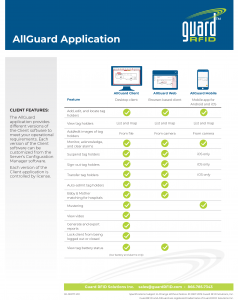 Additional new features debuting with AllGuard 6.3 include the following:
Improved time and attendance and mustering by accurately and automatically detecting if an employee is present in a facility regardless of size or type of facility
Create schedule for various system event, based on tag holder categories and recurring schedules
To install the updates, contact support at 866.785.7343 or support@guardrfid.com