If you thinking interoperability is just a buzz word — think again. At HIMMS20, more than 30,000 sq ft of displays and 19 uses cases will showcase real technologies working together. Each use case involves six to 10 organizations demonstrating different technologies in a single story focused on an individual in a clinical context.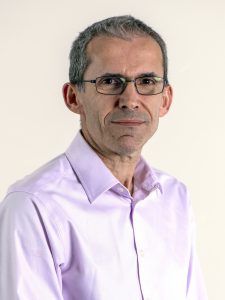 GuardRFID CTO, & VP, Engineering Dalibor Pokrajac is leading the company's role in two different use cases. No stranger to interoperability, this is Dalibor's seventh consecutive year participating in the Interoperability Showcase.
He is also a member of the Standards Council of Canada as a Chair of ISO JTC/SC31 Mirror Committee. He has been active in various roles in developing RFID and RTLS standards within ISO (JTC1/SC31), IEEE (802.15.4 and P1847), and IHE (PCD).
Dalibor recently discussed why it's important to push GuardRFID's focus on interoperable RTLS solutions.
How do you define interoperability?
I think of interoperability as the ability of two or more different systems, unrelated to each other, to exchange information and make use of each other's data.
What is the relation between standards and interoperability?
Standardization is critical for interoperability. Interoperability implies use of open standards, defined by one of the standardization bodies (like IEEE, ISO, IHE, etc.). Interoperability that is not based on open standards, is not considered interoperability but rather a compatibility between systems, based on proprietary interfaces.
What measures of interoperability exist for GuardRFID?
GuardRFID uses both interoperability and compatibility to interface with third-party systems. These interfaces belong into three categories:
Integrations that use proprietary APIs from our partners, and we develop our software interface to be able to share information with them. For this purpose, we have developed the concept of Orchestrator that is a software component which resides outside our main AllGuard Server application and has number of different plugins, to interface to each of those third-party systems.
Integrations that use GuardRFID API. We have XML-based API and REST-based API. Our partners develop their software based on these APIs.
Integrations that use open standards (IHE profiles based on HL7 protocol or RESTFul-based integrations).
All three types of integrations are important for us. Lately we see more and more traction with integrations based on open standards and we welcome this.
Do you see interoperability becoming a competitive advantage?
Interoperability was always a competitive advantage, but with significant increase in usage of IT systems in healthcare environment, integrations based on open standards are becoming a "must have" for any healthcare vendor to remain competitive and relevant.
How are you driving your organization's advancements?
Interoperability standards in healthcare are developing fast. GuardRFID is working closely with other healthcare vendors within the IHE and IEEE workgroups that are developing new standards for information exchange within the healthcare enterprise. We are on the forefront of implementing those new standards, that allow us to: a) share our location data and events with any healthcare system that supports the same IHE profiles, and b) to consume data from other systems into our AllGuard platform to show information and  real time status updates from those various third-party systems.
What are the roadblocks?
The main roadblock is customers' awareness of existence of the new possibilities created by standards-based integration. The customers are the best drivers of standards adoption when they can push vendors to deliver system functionality necessary for interoperability. However, if the customers are not aware of potential benefits, they cannot ask for it. As Henry Ford said long time ago: "If I asked my customer what do they want, they would have asked for a faster horse."
What advantages does interoperability present to the end user?
The most significant advantage of choosing vendors that are interoperable with each other is in ease of integration between their systems and seamless data sharing, what opens up the entire new level of functionality and features. For example, the capability of an RTLS system to show real time status of medical equipment allows a nurse to know if a particular piece of equipment is being used at that very moment, eliminating any potential ambiguity. Another characteristic example is to be able to show the location of the equipment, patients or staff members in other systems, like EMRs, equipment management systems, alarm managers, CMMS, etc.
To schedule a meeting with Dalibor Pokrajac at HIMSS in Orlando, FL March 9-13 or at ISC West in Las Vegas, NV, March 17 to 20, please book a meeting here.