The Avigilon Control Center 7 Software suite (ACC7) is the latest integration completed by Guard RFID Solutions Inc.
Typical use case involves the Guard RFID system to immediately activate an alarm near a door. The AllGuard software system triggers the configured Avigilon camera to immediately record the event and alerts the video management system (VMS) to display the alarm video to the security personnel monitoring the VMS console. Users using the AllGuard Client will see an event alarm and have access to the live video stream to verify the event situation.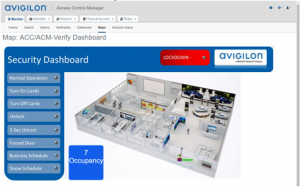 The AllGuard system is part of the Incident Management integrations approved by Avigilon to work specifically with the Avigilon Control Center 7 Software suite (ACC7).  AllGuard is listed on the Avigilon website at https://www.avigilon.com/support/software/integrations/
"Our customers rely on GuardRFID to continually develop integrations to world class manufactures such as Avigilon. Many of our channel partners are familiar with Avigilon's video management software, ACC 7, and we can immediately see the benefits to working with this system," said GuardRFID President, Kerry Brock. "We appreciate the opportunity to work with like-minded companies who create solutions that provide high performance and reliability."
With this new integration, you can combine the power of RTLS to immediately record the movement of a tag as it is attached either to a person or a physical asset.  This integration accurately locates and secures areas. It can be used in healthcare applications for Staff Duress, Wander Management and Asset Tracking applications and in non-Healthcare markets for Personnel Safety, Personnel Accountability and Asset Tracking use cases.
ACC 7 is the latest and most advanced version of Avigilon's video management software providing an easy-to-use, AI-enabled user interface so critical events are immediately recorded and viewable. Avigilon, a division of Motorola Solutions (NYSE: MSI), provides security solutions designed as easy-to-use software and hardware IP network products that include image capture, analysis, storage, transfer, and playback of high-quality video surveillance footage with visually lossless compression (no perceptible loss of visual detail), and electronic access control management.
Would you like more information? Contact us at sales@guardrfid.com.