ISO /IEC 800079-34 certification now allows GuardRFID to offer Ex rated equipment for use within explosive and hazardous environments
VANCOUVER, Canada (PRWEB)May 18, 2018
Guard RFID Solutions Inc., a proven expert in real-time location systems, today announced that the company has successfully completed the certification process for the Quality Management System required to develop, manufacture, sell and support equipment intended for use in explosive environments: ISO/IEC 80079-34.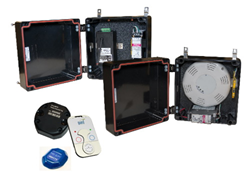 ISO/IEC 80079-34 is the international standard which specifies the requirements for establishing and maintaining a quality system to develop and manufacture equipment intended for use in hazardous areas (Ex rated equipment). GuardRFID's certification includes several products manufactured by the company, used to track and locate people and assets in hazardous environments.
This Quality Assessment Review carried out by an independent test laboratory indicates not only that GuardRFID products are safe for use in explosive environments, but also that the company's processes, quality control and overall quality standards are at a level that assures delivery of reliable and safe products for environments that necessitate the use of such products.
GuardRFID's active tags have been certified to comply with the highest classification level available for explosive environments (IECEx: Zone 0, UL/CSA: Class I Division 1), signifying that they are intrinsically safe. GuardRFID's infrastructure products are certified to be safely deployed in areas classified as Zone 2 / Class I, Division 2 environments. Information related to these products is available on the IECEx web site at http://www.iecex.com.
These Ex rated products are used for solutions such as Employee Mustering, Yard Management, and Lone Worker Safety, intended to be utilized within heavy equipment yards, oil & gas facilities, or any other areas where explosive gases and vapors can be present either permanently or occasionally.
Kevin Binnie, Director of Product Management says, "Our portfolio of industrial products is designed to meet the needs of the environment that our customers operate in, and this certification is another step on our path to meeting those needs. We will continue to produce the most rugged and robust products in the industry to help our customers track what matters, keeping their personnel safe, and helping them operate more efficiently."
Guard RFID Solutions Inc. is committed to delivering innovative products and solutions that add significant value for customers operating in all kinds of environments. Successful completion of the ISO / IEC 80079-34 QAR is a testament to the fact that GuardRFID will supply products and services of the highest standards, and in accordance with sound practices, having regard to the customer's expectations and quality control requirements. We are very proud of this accomplishment," says Zahir Abji, GuardRFID's President and CEO.
About Guard RFID Solutions Inc.
GuardRFID is a proven expert in real-time location systems driving the next generation of security and compliance applications in healthcare, industrial and commercial environments. With indoor and outdoor installations around the world, the Company delivers the most robust multi-purpose real-time location platform with superior flexibility, interoperability and performance helping organizations achieve the protection, compliance and efficiencies they require when it comes to their people and assets – today and tomorrow. For more information, please visit http://www.guardrfid.com
Media Contact:
Aradhna Sharma
Marketing Specialist
GuardRFID Solutions Inc.
Aradhna.sharma(at)guardrfid(dot)com
604 343 3558